SPAIN , BARCELONA
Barcelona will be shock for most people traveling from the north, the heat.
Well it was the first I noticed coming from the Bavarian Forest, Hello my name is Konrad and I will be living in Spain for the next few months.
For me Barcelona is the Los Angeles of Europe, Warm weather, big city, and wonderful beaches it should be one of the first places you visit when touring through the EU.
First thing I have to mention about Spain must be the food, you see the people here have breakfast around 9 am, lunch at 2.30 pm and dinner around 9 pm, now to most of the world this is pretty late but not here. For most people lunch is a rushed affair but most Spaniards this a time to chat and relax, luckily the food is delicious, healthy… extremely healthy.
After Lunch I walked around the town center admiring the beautiful architecture of churches, the fine work of the old stone street and the great modernity of the skyscrapers old really does meet new.
Once I wanna feel more active, I can walk to "la Barceloneta" , there is many bars and "chiringuitos" cozy restaurants in front of the beach were you can eat really good fried fish, paellas, where all smell super nice.
But before that, I can see lying on the sand a couple of SUP boards, and I realize that for only 45€ (about 50 US Dolars) if I am joining a group I can do a Sunset Sup experience – that is awesome!!!
Ending a journey walking safe, being active in the water doing kind of sport, and finishing with a nice "Mojito" in a cool terrace in front of the beach, wearing my flip-flops, shorts, t-shirt, there is no price enough to pay how happy I feel!
Another vital stop where German people likes to visit (of course if you like football) is the famous Barça Stadium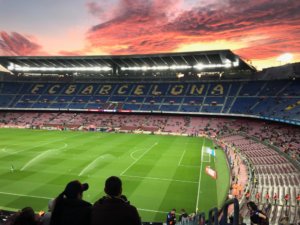 Days are longer now, but time go fast so, I guess during my stay in here I would live a lot of experiences, .. Next stop: Vilanova I la Geltrú (only 45 min away from the big city and if you do not have a car, directly from Barcelona "Paseo de Gracia" you can catch the train (RENFE) and stop directly to Vilanova I la Geltrú City center.