Hello there and thanks for reading my second post about traveling Spain.
While Barcelona was nice I can't really stay in one place for too long, so after a few days of experiencing the big city I took a train (Renfe – Cercanías) to the nearby town of Villanova.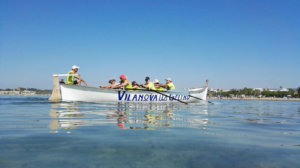 While very similar to Barcelona, Villanova i la Geltrú has more of an old world flare to it, most of the houses are ancient and the streets of downtown are paved in m
arbel looking stone giving you the feeling of going back in time, but the Architecture isn't the reason I was here, for me it was the food and sea kayaking. Villanova has a huge variety in food, more so than other large towns, you can get anything from fresh seafood to german bratwurst. It is really a place where you can spend hours on end just sitting at town square enjoying a coffee or maybe some tasty tapas.
This blend of old and new is really the best reason to visit Villanova but if you are hoping for something more exciting then you won't be disappointed.
[youtube https://www.youtube.com/watch?v=ZNkxLETn7zw]
After a quick look around and a talk with Paddle in Spain I was put into a group with a guide and given all the necessary equipment, and get ready for a Half day Sea kayak trip in Vilanova i la Geltrú.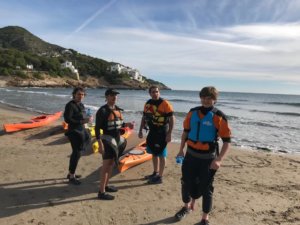 We started at the beach of Ribes Roges and ended at the cliffs of Garraf, the trip itself was breathtaking from the waves crashing against the cliff side and warm light blue water, but if a group is to much for you and you have a bit of experience you can just go out by yourself or with friends or family.
After that long trip I finally settled in for the night I started making plans to visit Sort, in the Pyrenees –  the location of the World Championship in Freestyle Kayaking.