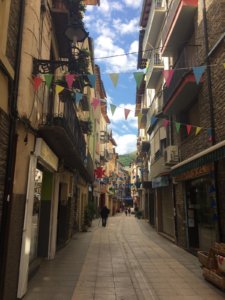 Hello and thanks for reading my third blog post about the mountain town of Sort.
If you are in the city of Barcelona with no car, the only way to go up to the mountains is :
by public transport : ALSA BUS
or a local private taxi (this is a mini-van working everyday form Monday to Friday) and departures from BCN city center are between 3-4pm. But you must to book your seat in advanced, because there is only 8 seats, and usually is very busy. Contact phone: 00 34 669 499 199 Mr. Pere only spanish speaker).
After waking up early in the morning and getting onto the bus we drove for about 2 hours through the spanish countryside and another 2 hours through the mountains, we finally arrived in Sort.
The First thing you'll notice entering Sort are the Pyrenees Mountains looming over you, it does make you feel pretty small but snaking its way beside the street you take to Sort will be the Noguera Pallaresa.
This river is was the main focus for me and the many other people coming to Sort since it was going to be the location of  World Championship in Freestyle Kayaking.
See last year video promo on pre-worlds to give you an idea on how super cool was the event –
[youtube https://www.youtube.com/watch?v=eMJ2opvXgWM]
When I arrived in Sort all the construction was already done, seeing the transformed river was great from the wave they had built in to the rushing clear water, from what i've heard 25 different countries were competing with over 230 contestants wanting to claim the prize and the tittle of best in the world.
The event takes place from June 29th til July 6th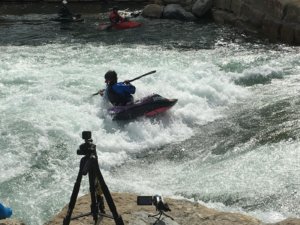 The Competition is only one of many reasons to visit Sort, from the old architecture to the wonderful restaurants I really feels like the mountain village version of Villanova.
Kayaking isn't the only thing you can do here, descend Canyoning, hiking in the National park of Aigues Tortes & Sant Maurici lake, River Open kayak or Canoeing, and White water Rafting are all great tourist activities for you and friends and family. So my final veredict is that even if there isn't a huge Championship going on Sort is definitely a place to be.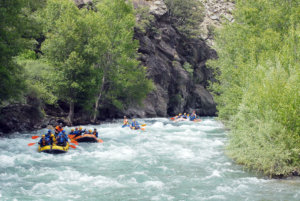 I think I will spend more days that I thought, a great event is coming up! I will keep you updated 😉