One of the most essential beaches to visit while enjoying your holidays in Nerja (Málaga), and why??? because this place is still Blue, due the local Spanish Television (TVE) that decide to do on their eighties a legendary television show that was all the rage for a generation : VERANO AZUL and its endearing character, Chanquete have excited audiences for over thirty years after that amazing summer summer showing a gang of kids in the incomparable setting of Nerja.
[youtube https://www.youtube.com/watch?v=Prm9nc5ZFow]
Nerja is one of the most important cities in Eastern Costa del Sol and one of the most popular tourist destinations with 500m long beach with crystal and clear water, coral reefs, all kinds of fish surrounded by nature.
This gorgeous town in Malaga has a special charm, cozing from its streets, and where you can find also the most prominent monument of Prehistoric Europe, the Caves of Nerja.
And how better to discover its stunning sceneray  and see on first-hand all this legendary and beauty place, than going in a Sea kayak paddling to the cliffs of Maro, a protected area and abrupt spot whose landscape is formed by small coves separated by rocks, and the awesome waterfall where if the weather conditions are good will give us the honor to snorkeling a little bit.
Our tours are taking place from Burriana Beach – one of the important beaches around Nerja, and the one most visited to the amount of activities and services it offers. Nice walk along the promenade passing through the statue of Antonio Mercero (director of the TV show Verano Azúl)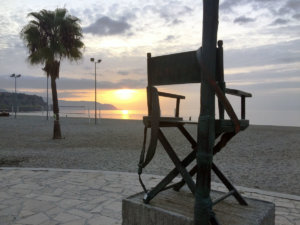 From Nerja to Burriana beach there is a quite easily walk from the center, though older people or kids may find the walk a bit long and it's preferable to drive or take a taxi. Car park in that location is not easy, there is a free parking area, or in the street, but is always crowed and hard to find a place for your car, so that's why we recommend to come walking if you come from Nerja, or by taxi –
How to get to Burriana Beach?
[googlemaps https://www.google.com/maps/embed?pb=!1m18!1m12!1m3!1d3196.868324701513!2d-3.8705106847115354!3d36.749731579959004!2m3!1f0!2f0!3f0!3m2!1i1024!2i768!4f13.1!3m3!1m2!1s0xd722508e8689d91%3A0x235d054bee9a7cb4!2sNerja+Playa+Burriana!5e0!3m2!1sca!2ses!4v1564755316902!5m2!1sca!2ses&w=600&h=450]
And one of the cool places I would recommend to have a good paella in Burriana Beach is the Restaurant "Chiringuito Ayo" where you will enjoy fresh fish too, paying once and eating as much as you can. Fresh, super good, Mediterranean diet.
For those who love the sea, this place can be one of the greatest location in Costa del Sol.